May 2022
FITF launches the Fishing Porthole Website 
Fishermen-led charity, Fishing into the Future (FITF), is launching a new website this Friday. The Fishing Porthole website is a dedicated portal, spearheaded by the fishing industry, aimed at improving understanding and collaboration in fisheries management and science.
The Fishing Porthole offers a free and open access online resource to provide a one-stop-shop for learning, sharing, collaborating and supporting people in the industry with the tools to become better informed and connected within the fisheries sector.  The site presents new purpose-built resources, created in collaboration with a team of experts from universities, industry and government, on a growing range of topics such as public speaking, accessing funding, jargon busting, a map of who's who of the UK fishing industry, fisheries science, fisheries management and economics.
David Stevens, Fishermen and FITF Chairman said "As fishermen, we are used to navigating fishing grounds, but less confident at finding our way round the internet. Too often, the important stuff is spread over various websites, buried through endless links, and it's not an intuitive process to find out what we need."  The collaborative site will host Fishing into the Futures bitesize learning resources, and also link to third-party materials to help streamline important, sought-after information into one simple-to-navigate platform.  David added "We also have a problem within the industry with misinformation and identifying credible science from fake news, or sometimes if you want to raise an issue about fisheries science or management, it can be unclear how to go about it and who to reach out to. This site will provide a foundation to improve the way we connect, communicate, and participate in fisheries – effectively breaking down some of the barriers and giving people in the industry a better opportunity to access the best knowledge and communicate with one another about science, management, and seafood business."
The timely development of the website aligns with the UK government reaffirming its ambition to achieve world-class sustainable fisheries management in the Draft Joint Fisheries Statement, along with developing and strengthening arrangements for co-management. Fishing into the Future's ethos is based around a co-management built on shared participation, effective dialogue and mutual understanding between the fishing industry, scientists, and fishermen managers, in particular, enabling more representative participation of people working in UK fisheries. The initial build of the Porthole Website already includes accessible information to develop knowledge and help people reach out and communicate with one another, with further resources under development to be shared at a later date.
FITF Executive Director, Emma Plotnek, said, "Before Covid we focused on in person interactions, but the last couple of years has led us to link up online, on a variety of different platforms. This website will support our continued in-person workshops and events and be accessible to a wider group of people working in fisheries."
She added, "We don't think of this as our own creation – we have spoken to people in the industry, science and management and putting their bright ideas into action, it's a resource by and for everyone working in UK fisheries. It's still in its infancy and we are ambitious that it will flourish according to what is relevant."
The website can be viewed here will launch on Friday 13th May, while Emma and a team of trustees will be at Stand 82 at the Skippers Expo in Aberdeen to demonstrate and hear industry feedback and ideas.
Contact, Email: emma@fitf.co.uk Telephone/ WhatsApp 07311 812105
March 2022
Fish Talks: The Draft Joint Fisheries Statement (JFS) – Last Call for Views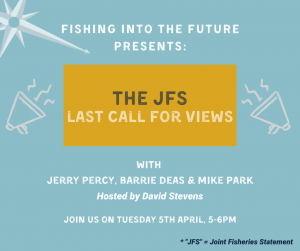 A 12 week public consultation on the Draft Joint Fisheries Statement (JFS) is coming to a close on the 12th April. The JFS is key component of the UK Fisheries Act 2020, as it will set out the legally binding policies the UK Government and Devolved Governments will follow to manage fisheries and aquaculture.
Many individuals and groups within the UK catching sector have already given, or are in the process of sharing feedback and views on the draft Statement. With one week to go, Fishing into the Future will be holding an informal talk for fishermen and people working in the seafood industry with an aim to further knowledge and encourage participation within a fishermen-led space. 
The event will be held at 5PM on Tuesday 5th April, and will be hosted by FITF Chairman, David Stevens. Follow this link to sign up and join the conversation. For further information you can read a DEFRA produced Factsheet here, or we recommend catching up on the latest Fathom Podcast.
February 2022
Collaborative Fisheries Research
The newly formed Fisheries Industry Science Partnership (FISP) Network, led by the Fishmongers' Company's Fisheries Charitable Trust, Fishing into the Future and the Fishing Animateurs, is encouraging the fishing industry to come forward with their ideas for scientific studies that address issues with data deficient fisheries and develop industry ideas that support the science used in decision-making in the UK.
The FISP Network, comprised of three fishing charities, was set up to support a collaborative approach to fisheries research whereby fishers and scientists jointly develop a scientific proposal, based on a set of research needs set by government with stakeholder input. All developed proposals are supported through the process of applying for further stages of government grant funding.
The FISP Network launched in November 2021 to coincide with the inaugural opening of the government's £10 million gr
ant scheme, Fisheries Industry Science Partnership (FISP). The FISP grant scheme is currently closed, however, the FISP Network are still asking people or groups within the industry to come forward with their ideas, so that proposals can be developed and written in time for the second round of the FISP grant, scheduled for spring 2022.
November 2021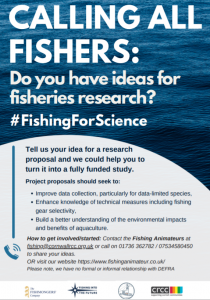 Fishing into the Future has joined forces with the Fishing Animateurs and The Fishmongers' Company' Fisheries Charitable Trust to support the development of industry-driven scientific studies. We are encouraging the fishing industry to come forward with their initial ideas for how research might improve their fishery.
Project proposals should be in line with the objectives of the Fisheries Industry Science Partnership (FISP) scheme and seek to:
Improve data collection, particularly for data limited species,
enhance knowledge of technical measures, including fishing gear selectivity, and/or
build a better understanding of the ecosystem benefits and environmental impacts of aquaculture.
To enable access to the FISP scheme, the project will connect the fishing industry to relevant fisheries scientists, who can help to develop their ideas further. Once a preliminary plan has been identified, the Fishing Animateurs will then apply for 'research development' funds, under the first stage (Part A) of the FISP scheme. If suitable, Fishing into the Future can support the development of the research proposal by building connections between industry and science, developing knowledge and sharing information, and facilitating the development of a research proposal.
The FISP scheme is a competitive process. Successful projects under Part A (i.e., the development of a research study) will be given matched funds by the Fishmongers' Company' Fisheries Charitable Trust. Fully developed scientific proposals can apply for funding under the FISP (Part B) scheme.
If you have an idea for a project, your first step is to contact the Animateurs:
Call: 01736 362782 to leave a message about your project idea.
Text: 07534580450 with your name, project theme and size of vessel.
Email: fishing@cornwallrcc.org.uk
If you want to help us spread the word on this initiative, you can download and share this call to action, or this poster with the steps on how to write a collaborative research proposal.
October 2021
Seven new industry experts have been appointed to the Fishing into the Future (FITF) board of trustees, expanding the geographical reach of the Trusteeship and enriching the expertise available to guide its charitable activities. 
As of October 2021, seven new Trustees have joined the FITF board of Trustees, creating renewed momentum and new perspectives to guide future projects. The new Trustees are currently getting involved in ongoing work to develop community learning resources that will support the transition towards co-management and more collaborative science, as well as preparing the launch of a new website "the Fishing Porthole" that will provide a one-stop-shop for learning, sharing & working together.
Emma Plotnek, FITF Executive Director said:
"We are already supported by a wealth of experienced, forward-thinking people and by growing our Trusteeship it shows people in the industry believe in our core values and potential as a charity. We are injecting new ideas and energy into the charity and are striving to ensure we represent the different scales and geographies within the industry, as well as include more women and young voices."
The new trustees include David Anderson, CEO of the Aberdeen Fish Producers Organisation Ltd.; Orkney based Hannah Fennell, Head of Orkney Fisheries Association and Researcher; Trevor Jones, fisherman, fish farmer and expert in fishing safety based out of North Wales; Northern Irish fisherman Jimmy Kelly, based out of Portavogie; Norfolk-based vessel owner Ashley Mullenger, better known on social media as the "the Female Fisherman"; Mike Park, CEO of the Scottish White Fish Producer Organisation; and Neil Witney, owner and skipper of About Time NN8 based out of Newhaven in East Sussex.
Newly inducted Trustee, Ashley Mullenger, said:
"It's both an honour and a responsibility to be inducted onto the board of Trustees, despite being relatively fresh in my career as a fisherman, it's clear how important it is to understand the science that drives our management policies, whilst also engaging the fishing community in our various upcoming projects, which will help us to play a clear role in the future of the industry"
Read about our Board of Trustees on the "Meet the Team" Webpage.
September 2021
Fishing into the Future shares knowledge and experience from the Scottish Pelagic Industry Self-Sampling Programme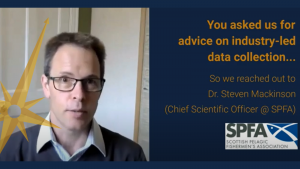 Fishing into the Future continues it's mission to share knowledge with an insight into how to improve understanding around providing industry-dependent information to accurately inform fisheries policy and management.
The highlights of a conversation with FITF Trustee Dr. Steven Mackinson & Dr. Katie Brigden, part of the team behind the Scottish Pelagic Industry Self-Sampling Programme, are available to view on the FITF YouTube channel. They spoke about their experience with industry-led data collection and relaying information to decision makers. The discussion includes the processes used for data collection, which ensures that data is credible and compatible with other data sources and suitable to feed into decision making. The overall gain for the industry is that they are able to provide more data for use in decision making, and they have more confidence in the data being used to manage their fisheries.
May 2021
Event summary encourages a commitment to co-management in future policy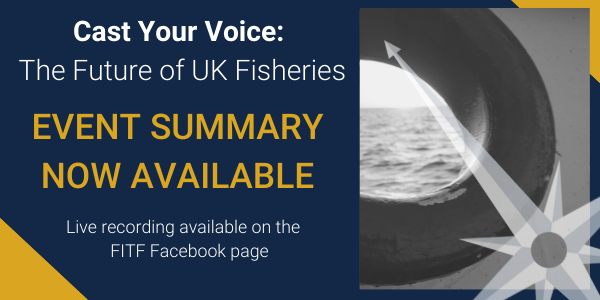 Following their relaunch event, the industry-led charity Fishing into the Future (FITF) has published an event summary that encourages a commitment to the language of co-management in future fishing policy.
The ground-breaking 'Cast Your Voice – The Future of Fisheries Management' event on 1st April 2021 focused on creating a dialogue around fishing, science and policy, and was well-attended by a variety of people within the UK the fishing sector. It provided an opportunity for people working in fisheries to explore the concept of co-management, share their experiences and diverse approaches to management and science, and discuss their ideas for the future of UK fisheries management.
The highlight of the event came from within intimate, thought-provoking group discussions, led by FITF  fishing industry Trustees, David Stevens, Adrian Bartlett, Peter Bruce, and Jimmy Buchan. Conversations emphasized the importance of true collaboration between industry members in policy and science, and ensuring well-structured and transparent management processes while trialling new approaches of working together.
During the discussions there was a desire to move towards long-term commitments, with ideas put forward on what this might look like, how they could be funded, and how existing initiatives could be brought together effectively, with an appetite to see these approaches incorporated into policy.
Emma Plotnek, FITF Programme Manager said:
"We already know of so many forward-thinking initiatives that have the attributes of effective co-management and industry-led data collection – however, we must also remember we are still figuring out what co-management and collaborative science will look like in the UK. Looking to the future, we hope to see people from the industry engaged in the development of policies that tie these efforts all together."
The event brought together a number of renowned, multi-disciplinary contributors, including Alexa Dayton, Scientist at the Gulf of Maine Research Institute, who explained the US approach to fisheries management; Gus Caslake, Independent Chair of the Cornish Sardine Management Association, who spoke of collaboration and data collection within the organisation; Alan Steer, Vice-Chair of the South Devon and Channel Fishermen, who gave an insight into the history of the Inshore Potting Agreement in South Devon; and Jim Evans, Chair of the Welsh Fishermen's Association (WFA), who presented on the effective relationship between the WFA and marine scientists to obtain data for better management decisions. These insights were followed up with some perceptions from within Government, with key messages shared by Robbie Fisher of DEFRA and Jim Watson of Marine Scotland.
It was highlighted during the event that the Scottish Fisheries Management Strategy 2020-2030 already uses clear language that is committed to co-management. During the event, Jim Watson of Marine Scotland reaffirmed that a commitment to co-management needs to be built into each part of the management process – established during the initial stages of development right through to delivery. Drawing on this valuable insight, FITF have drafted a summary of the event, in which one of the take home messages encourages the adoption of this approach more broadly into policy.
David Stevens, Chair of Fishing into the Future, said:
"A positive reception from government provided us with much reassurance, the next leap forward will be seeing specific wording in policy that commits all of us to these processes. We need to keep this at the forefront of our agenda as the Joint Fisheries Statement is being written throughout this year and next."
FITF's approach is unique and truly collaborative, as the charity is led predominantly by fishermen and those working in the fishing industry, who give their time voluntarily to support the charity whilst also running fishing businesses and working directly within the sector. FITF focuses on creating learning opportunities, encouraging collaboration, and providing a platform to enable effective dialogue and mutual understanding between the diverse set of people working across the fishing industry, science, and government.
The short and clearly written event summary is available here and the event is available here to re-watch in full.
April 2021
Adrian Bartlett reflects on the recent dialogue held on the Future of Fisheries Management
Industry-led UK charity, Fishing into the Future (FITF), relaunched with an online event on Thursday 1st April 2021. The event brought together people working in UK fisheries to share successful examples of co-management and industry-led data collection, which then led to a lively discussion on the inherent challenges and opportunities within these processes, and what this means for future management of our fisheries. FITF Vice-Chair, Adrian Bartlett, helped to facilitate this dialogue and has shared some of his thoughts post-event: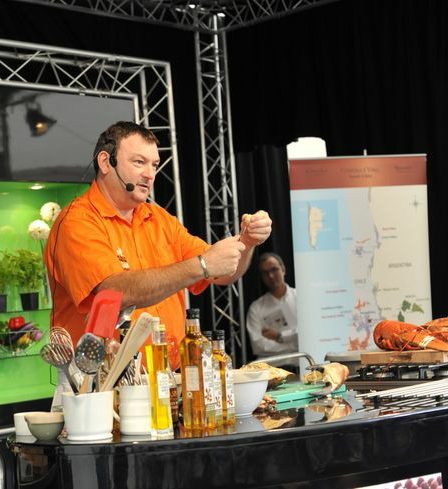 "I come from a family of fishermen in South Devon, and through the course of my life have worked my way up from deckhand to skipper, and now work throughout the supply chain, sharing my passion for locally sourced shellfish with the Great British public. Not long ago I took on a new challenge to fill the position of Vice-Chair at the independent and fishermen-led charity Fishing into the Future – and I had to rapidly step up to the position on April 1st at the FITF relaunch event, by hosting a conversation around the future of fisheries management. While we were prepping, my fellow Trustees and I were nervous about how this conversation would go – never before has the industry endured such hard times, and people are angry and disillusioned while struggling to keep their heads above water. Given we've hit rock bottom, can we pull together to find our way back out?
I really have to hand it to the people from the industry who joined the event. Despite the difficulties we are faced with, people showed up to contribute respectfully and partake in a constructive dialogue on issues such as co-management and industry-led data collection. We saw old friends and new faces, small vessel owners who spoke for themselves and bigger players who have people that speak for them, and we encouraged some of the more timid voices among us to speak up and share their insights. We managed to have a rich conversation in a safe and neutral space where everyone's voice was of equal value, and where government and scientists were willingly listening to us (and seemed to be agreeing with what we said!).
It gave me tremendous pride to feel part of a bigger picture, and I sincerely hope we carry on working together as one industry – putting aside fractious differences and pulling together over shared common goals, to move towards a better future for our fisheries sector."
The full event can be viewed on the FITF Facebook page.
March 2021
Fishing into the Future encourage fishermen to join the discussion on fisheries management
Industry-led UK charity, Fishing into the Future (FITF), relaunches with an online event on Thursday 1st April 2021. The event aims to provide an opportunity for people working in UK fisheries to have their say on the future of UK fisheries management and will be chaired and facilitated by FITF trustees, who voluntarily support the charity while also running fishing businesses or working closely with the sector.
A year has passed since FITF was able to gather at London's Docklands for their last residential event "Introduction to Sustainable Fishing", but as the weather warms up and with better fishing ahead, the UK charity is taking an adapted approach by taking their events online.
FITF focuses on creating learning opportunities, encouraging collaboration, and providing a platform to enable effective dialogue and mutual understanding between the diverse set of people working in the fishing industry, science, and government. The event will focus on the future of fisheries management, as well as hearing some successful case studies of fisheries management and collaborative science from the UK and beyond.  Guests will include Deputy Director of Domestic Fisheries and Reform, Anne Freeman, Alan Steer, Vice-Chair of the South Devon and Channel Shellfishermen, Gus Caslake Independent Chair of the Cornish Sardine Management Association (CSMA), and more.
David Stevens, Chairperson at FITF and Skipper of the Crystal Sea SS 118 gave an insight into the event topic, saying "The term co-management is trending throughout industry conversations, but we still have a way to go to understand what it really means for us. There are already numerous fisheries in the UK that integrate some of the positive attributes of this management style, but widespread co-management is not going to happen overnight, it is going to take time and effort to build trust and knowledge, and tangible milestones need to be set along the way – such as more industry-led data collection. Undoubtedly, we will make mistakes, it's part of the process to ensure that the sector will endure, grow, and prosper."
Commenting on why FITF decided to hold the event, FITF Programme Manager, Emma Plotnek, said: "It's been a tough year since we held our last event, but we want to offer the sector a space for constructive discussion and learning, and at the same time encourage a representative pool of people from the industry to get involved and voice their opinion."
The event will be held over zoom, FITF will also be piloting the opportunity for people to watch the event live on their Facebook page. For those participating, break out rooms hosted by FITF trustees will enable deeper discussions on relevant topics. If you want to get involved, you can follow the event on the FITF Facebook Page, or contact the FITF programme manager.
September 2020
Fishing into the Future hires new Programme Manager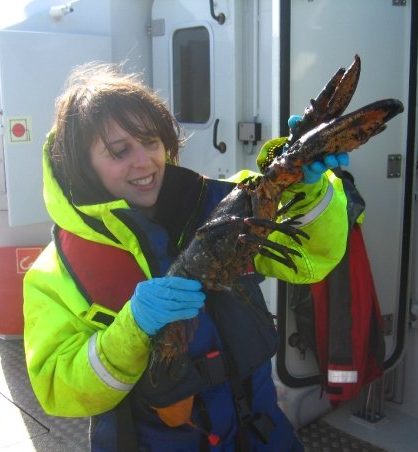 Thanks to additional funding from Seafarers UK, FITF has hired Fisheries and Seafood expert, Emma Plotnek, to lead their programme of work. Emma returns to the UK after gaining more than a decade of international experience working with coastal communities between Canada and Chilean Patagonia, on multidisciplinary projects focused on capture fisheries and the aquaculture sector.
Emma will be working with FITF's Trustees to continue building on their education and leadership programme and peer-learning network – to create opportunities for fishermen, scientists and fisheries managers to come together, build trust, and find solutions based on collaborative approaches that incorporate a broad spectrum of knowledge and skills.
This work will help to better prepare the sector through the delivery events, webinars, and tailored workshops – as well as building digital resources, so the diverse stakeholders involved in the UK's fishing sector can gain access to the skills, knowledge and connections they need to effectively participate in a range of management, science and business scenarios.
Due to the Covid-19 restrictions, the team at FITF will focus on building relationships and knowledge remotely through an online network and series of digital interventions and events, aiming to restart face to face activities in 2021.
The FCFCT supports a wide range of projects, grants, and convening, to Build and safeguard a prosperous and sustainable fishing industry, for the benefit of those engaged in it, the environment, and our island nation. This partnership will form part of a wider engagement the FCFCT has with the UK fishing industry and FCFCT's Fish & Fisheries team will be working closely with the FITF team.
FITF and FCFCT will use their trusted networks to engage with fishermen, scientists, government, and seafood businesses to help build a transdisciplinary approach to fishery management that emphasises the need for collaborative problem‐solving among stakeholders. As two neutral and independent organisations, they are trusted facilitators within the seafood industry and have the freedom to develop innovative solutions.
With financial support from the FCFCT and additional resource capacity from one of the FCFCT's Programme Managers, Alison Freeman, the collective aim of the partnership is to build upon the FITF education programmes and improve access to the tools, information and training needed to bolster the fishing industry and coastal economies. A priority going forward will be to develop a supportive alumni network, which will offer ongoing support and training to the attendees of FITF initiatives. Under the new direction,  FITF will also support regional and gear/species-specific meetings, workshops, and symposiums, as well as explore radical opportunities for participation in co-management and embed the FITF curriculum into early career development programmes.