September 2020
Fishing into the Future hires new Programme Manager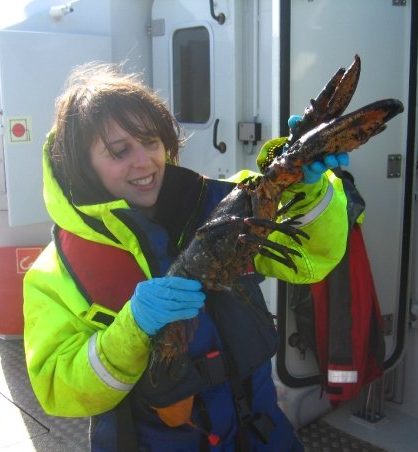 Thanks to additional funding from Seafarers UK, FITF has hired Fisheries and Seafood expert, Emma Plotnek, to lead their programme of work. Emma returns to the UK after gaining more than a decade of international experience working with coastal communities between Canada and Chilean Patagonia, on multidisciplinary projects focused on capture fisheries and the aquaculture sector.
Emma will be working with FITF's Trustees to continue building on their education and leadership programme and peer-learning network – to create opportunities for fishermen, scientists and fisheries managers to come together, build trust, and find solutions based on collaborative approaches that incorporate a broad spectrum of knowledge and skills.
This work will help to better prepare the sector through the delivery events, webinars, and tailored workshops – as well as building digital resources, so the diverse stakeholders involved in the UK's fishing sector can gain access to the skills, knowledge and connections they need to effectively participate in a range of management, science and business scenarios.
Due to the Covid-19 restrictions, the team at FITF will focus on building relationships and knowledge remotely through an online network and series of digital interventions and events, aiming to restart face to face activities in 2021.
May 2020
The Fishmongers' Company and Fishing into the Future form a Strategic Partnership
Fishmongers' Company's Fisheries Charitable Trust (FCFCT) is pleased to be joining forces with the charity Fishing into the Future (FITF) through a transition period from 2020 to 2022. The partnership will enable the fishing industry to develop leadership skills and a voice in co-management.
The FCFCT supports a wide range of projects, grants, and convening, to Build and safeguard a prosperous and sustainable fishing industry, for the benefit of those engaged in it, the environment, and our island nation. This partnership will form part of a wider engagement the FCFCT has with the UK fishing industry and FCFCT's Fish & Fisheries team will be working closely with the FITF team.
FITF and FCFCT will use their trusted networks to engage with fishermen, scientists, government, and seafood businesses to help build a transdisciplinary approach to fishery management that emphasises the need for collaborative problem‐solving among stakeholders. As two neutral and independent organisations, they are trusted facilitators within the seafood industry and have the freedom to develop innovative solutions.
With financial support from the FCFCT and additional resource capacity from one of the FCFCT's Programme Managers, Alison Freeman, the collective aim of the partnership is to build upon the FITF education programmes and improve access to the tools, information and training needed to bolster the fishing industry and coastal economies. A priority going forward will be to develop a supportive alumni network, which will offer ongoing support and training to the attendees of FITF initiatives. Under the new direction,  FITF will also support regional and gear/species-specific meetings, workshops, and symposiums, as well as explore radical opportunities for participation in co-management and embed the FITF curriculum into early career development programmes.